Occupational Profiles of the Graduates
Graduates of the programs can work in both private sector firms and public institutions in the fields covering buildings, built environment, construction, architecture and urban planning. Furthermore, graduates can found their own firms related with these sectors.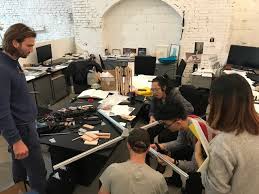 As an architect, you'll design new buildings or extensions or alterations to existing structures, and advise on the restoration and conservation of old properties. You may work on individual buildings or on large redevelopment schemes and your responsibility can extend to the design of the surrounding landscape and spaces.
Working closely with clients and users, you'll make sure that projected designs match requirements and are functional, safe and economical. You'll usually control a project from start to finish and work with a number of construction professionals, including surveyors and engineers.
Some architecture graduates also venture into entrepreneurship, creating their own construction businesses from the ground up. Some works as freelance architects.
The graduates of the Program can also be employed as educators in public or private higher education institutions.
Your career opportunities increase exponentially with an Master's degree, the most popular degree awarded in architecture. Those who wish to gain further education can pursue the Doctor of Architecture, which takes three to six years to complete.
This advanced degree primes students for working in management at the senior-executive level, as well as in teaching and research at universities.