Key Learning Outcomes
Bachelor of Architecture students will demonstrate the following learning objectives upon completion of this degree program:
Demonstrate critical thinking through a self-reflective process of conceptualization and design thinking that is open to consideration of alternative perspectives by analysing, evaluating, and synthesizing ideas and information gathered through applied research grounded in information literacy.
Implement complex two and three-dimensional graphic representation techniques using a wide variety of traditional and digital media, to reflect on and explain the architectural design process to a wide range of Course.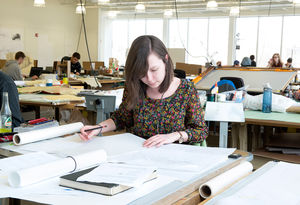 The knowledge and ability to apply a design decision-making process through appropriate technical documentation in a manner that is client-cantered, sustainable, aesthetic, cost effective, and socially responsible.
Incorporate a wide range of technical skills and professional architectural knowledge during schematic design to demonstrate a comprehensive application of life safety, accessibility, and sustainability issues in making sound design decisions across varying scales and levels of complexity.
Demonstrate the ability to synthesize a wide range of variables into an integrated design solution by employing appropriate building materials, building systems, and construction practices grounded in environmental stewardship and based on sound research and design decisions across varying scales of systems and levels of complexity.
Understanding how to collaboratively lead teams of stakeholders in the process of conceiving, developing and implementing solutions to problems in the built and natural environments, utilizing knowledge of the diverse forms and the dimensions of professional practice along with associated ethical, legal, financial and social responsibilities.
Apply math, physics, logic as reasoning skills to investigate problems related to force resolution in structural systems, thermal heat gain and loss in buildings, material quantity estimates, budget management, and life-cycle cost analysis.
Demonstrate information literacy through applied research by raising clear and precise questions, using abstract ideas to clarify and express information, and considering diverse points of view, to reach well-reasoned conclusions and evaluate options against relevant design criteria, building standards, and program requirements.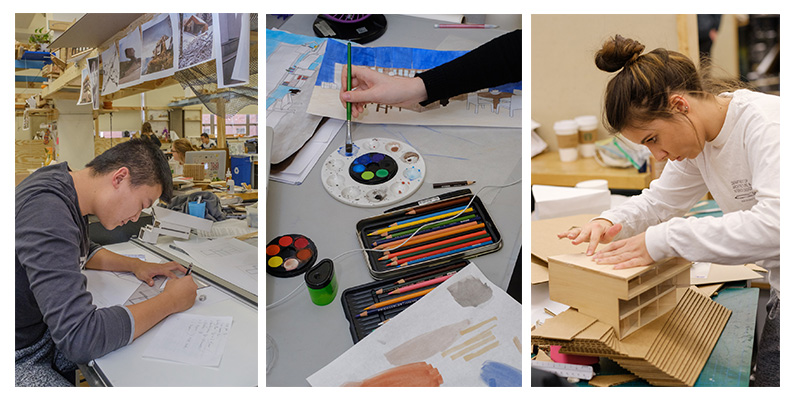 Demonstrate an ability to thrive in a rigorous intellectual climate, which promotes inquiry through design research.
Demonstrate an ability to work collaboratively toward synthetic design resolution which integrates an understanding of programmatic considerations, contextual/environmental connections, technological systems, and historical/theoretical meaning.
An ability to communicate both the technical, spatial, and conceptual aspects of one's design through comprehensive modes of representation including digital and analogue drawing, physical modelling and other forms of media; as well as the ability to clearly articulate written and verbal expression.
Demonstrate a solid intellectual base of knowledge in cultural studies (history/theory), related technology, and fundamental aspects of professional practice.
Ability to successfully complete an option-based directed design research sequence, pursuing the individualized exploration of advanced and emerging topics.
Demonstrate an awareness of the need to respect diversity and to explore global connections.
Demonstrate an ability to work in a manner consistent with understood professional standards and ethical responsibilities and to advance to the level of professional licensure in their field of expertise.
A breadth of knowledge (after completing the university's general education program, professional electives and free electives), allowing each student to consider themselves (and to be considered by other people) a generally well-educated person.
Demonstrate an understanding of the value and promise of urban life, through the continual exploration of Nicosia, Istanbul, Ankara, Izmir, the finest examples urban regions in Mediterranean.